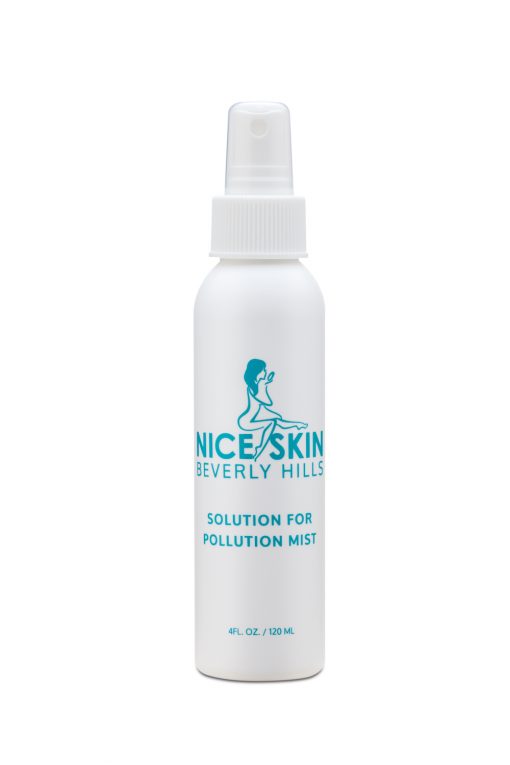 Solution for Pollution Mist instantly offsets the damaging effects of ozone, smoke, smog, free radicals and airborne particles – anywhere, anytime!
$35.00
19 in stock
Shake bottle. Close eyes.  Using quick, full, firm pumps, mist generously over face and other exposed skin.  Use as needed.
Water, hydrolyzed algin (laminaria digitate), ergothioneine, fumitory (fumaria officinalis) extract, lemon (citrus medica limonum) extract, lavandula intermedia flower/leaf/stem extract, rosmarinus officinalis, flower/leaf/stem extract, fumaric acid, camellia sinensis leaf extract, phospholipids, tocopheryl acetate, ascorbyl palmitate, pentylene glycol, propanediol, ethylhexylglycerin, butylene glycol, phenoxyethanol, sodium phytate.
"Get Back to Clean" Solution for Pollution Mist
Solution for Pollution Mist defends skin against the effects of tobacco smoke, smog, ozone, in plane cabins, and other pollutants with this exclusive blend of a skin -defending Amino Acids, Seaweeds, and refreshing Plant extracts.  Fortified with White Tea and stabilized Vitamin C and E for added surface defense your skin needs to neutralizes the damaging effects of pollution and other airborne toxins.  Your skin feels moist, looks fresh, radiant and healthy -regardless of your environment.
Perfect for all skin types and works well with our "Get back to Clean" Trio Serums to fully protect and transform your skin long term. Acts like a breath of fresh air for your skin.
Perfect for air travel, change of climates, problem air zones and indoor pollution. This mist sets and revives makeup with long lasting antioxidant protection. Lavender and Rosemary Waters scented, all environmentally exposed skins are benefited from this amazing mist! Urban related redness and sensitivity is calmed.
In seconds, this antioxidant powerhouse save skin in 4 ways:
1. Fumitory & Lemon extracts plus Ergothioneine – the cell's key energizing antioxidant, neutralizes atmospheric ozone, helping skin survive smoggy climates and ensuring jet-lagged skin makes a beautiful arrival.
2. White Tea extract protects skin from dryness and irritation induced by tobacco smoke.
3. Ocean-grown Algae keeps skin pure in the presence of airborne pollutants ad neutralizes 100% of tobacco smoke radicals for fresh, hydrated, comfortable skin – no matter how smoky it gets.
4. Vitamins C&E keep skin moist, hydrated and comfortable – even in the harshest, dries climates.
The results are dramatic: After spraying Solution for Pollution Mist on skin exposed to tobacco smoke and smog, 100% of those tested reported fresher, moister, more comfortable skin within seconds. Prolonged effects were reported up to several hours.
Ergothioneine – the cell's principal energizing antioxidant, neutralizes damaging radicals.
Hydrolyzed algin (laminaria digitata) – shown to offer skin 100% protection from tobacco smoke
Fumitory & Lemon – protect skin from damage by ozone in smog and plane cabins
White tea – inhibits environmental peroxides that can cause dryness, irritation, and surface aging.
Vitamins C&E – liposomal antioxidants protect skin's barrier from oxidation and dryness.
Can be used as your daily toner after cleansing to keep acne breakouts at bay. Just mist 5 – 10 sprays onto skin before adding your favorite serums, creams, or lotions. Can also be used to set make up and leave you feeling dewy.
Does not contain solvent alcohols, synthetic fragrance, parabens, or formaldehyde releasing preservatives.
PH Balance: 5.5
Paraben-Free
Size: 4.0 FL. OZ (120 ML)
BOTTLE TYPE: Spray Plastic bottle